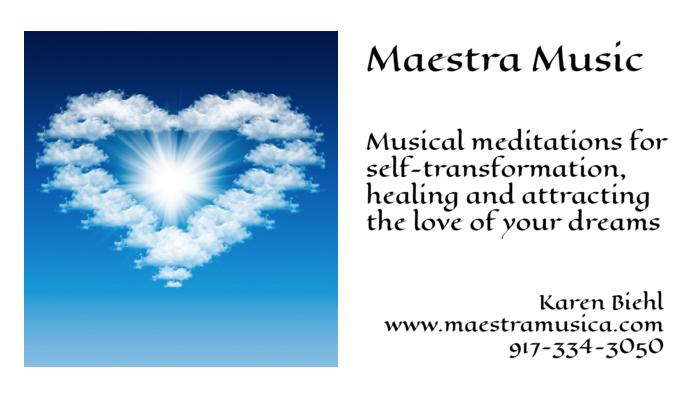 Whether you are seeking to transform your life, improve yourself, enhance your sense of well-being, or attract the love of your dreams, Maestra Music's musical meditations for self-transformation, healing and love can help you on your journey. Set to the relaxing and inspiring music of composer Karen Biehl, Maestra Music's guided meditations help listeners find their true self and sense of empowerment so they can direct their lives in accordance with their true purpose and calling.
Karen Biehl studied voice with former Metropolitan Opera star Thomas Hayward before completing her master's degree in opera performance at the San Francisco Conservatory of Music. Also classically trained in both piano and violin, her musical compositions combine romantic classical lyricism with meditative empowerment to assist listeners in achieving an enhanced and peaceful sense of self-awareness and purposeful focus.
Her album "Starlight Dreams" was named "Best Solo Piano Album 2018" by New Age Music Guide and ranked #4 on their top ten albums of 2018. The album was also selected as one of the top albums of 2019 by Aural Awakenings and was a finalist for the "Best Neo Classical Album 2018" award for One World Music Radio's awards in addition to receiving an honorable mention from Shades of Classics (CKUW Radio).
Karen's music can be heard on Pandora, Spotify, iTunes, Calm Radio, AccuRadio, GotRadio, New Age Stars Radio, KMStudio Classical Radio, First Greek New Age Radio, Enlightened Piano Radio and Aural Awakenings among other radio stations, and has been programmed on in-flight airline music channels.
"Throughout my life, an inner voice has guided me through all kinds of adversity, including problems with relationships, self-esteem, career and health. I created these guided meditations to help others, especially women, find their own inner voice and claim their True Self. We all have an amazing ability to transform our lives if we get in touch with the part of us that is our own mentor to guide us on our journey." – Karen Biehl